At Broadcom, Innovation Never Stops
Technology empowering the world's great innovators
I recently had the privilege of talking at the Silicon Slopes Summit in Salt Lake City, Utah, at the invitation of Utah's senior U.S. Senator, Mike Lee. Silicon Slopes is a 501(c)(3) nonprofit organization empowering Utah's startup and tech community, which continues to grow and flourish. Broadcom is proud to be a part of this dynamic community, with more than 250 Broadcom professionals residing in the Beehive State. Given Broadcom's presence in Utah, its focus on innovation and the role our technology plays to empower others to keep innovating, participating in the Silicon Slopes Summit was a perfect fit. Below are a few topics I discussed with Clint Betts, the CEO and Co-founder of Silicon Slopes.
The Journey of Building Broadcom Corporation
In 1991, I co-founded Broadcom Corporation with Henry Nicholas, who I had met several years earlier at TRW (now part of Northrop-Grumman). When I left TRW to join UCLA's electrical engineering faculty, I convinced Henry to become my first Ph.D. student. The broadband communications chip design know-how that my research group developed at UCLA became the foundational elements of Broadcom Corporation, where Henry was the CEO, and I was the Chief Technology Officer. Our chips were truly transformative at a time when the world was discovering the internet and wanting to connect to it at speeds faster than voiceband modems were capable of doing. In 2016, Avago Technologies acquired Broadcom Corporation and rebranded the combined company as Broadcom Inc.—the name it goes by today.
Now, six years later, Broadcom remains one of the major suppliers of broadband semiconductors, as well as a leading supplier of infrastructure software.
Education and the Love of Learning
I never envisioned myself as an entrepreneur, but when I was in 7th grade, I built an AM/FM/shortwave radio, and was always curious to understand how it worked. That got me interested in electrical engineering. I loved school and didn't stop until I earned my Ph.D., because I was just so passionate about learning. When I got my first job at TRW, I was sure I was going to spend my entire career there. Then, I was offered a professorship at UCLA—and how could I turn that down? Once again, I was convinced I would spend the rest of my career there. However, because of the success of our chip research program at UCLA, we knew we needed to make that technology commercially available ... and thus, Broadcom Corporation was born. You could say I was an accidental entrepreneur!
The Future of Broadband
Clint asked me about the future of broadband and, specifically, the invention of wonderful technologies like Starlink. Frankly, one advantage of a network like Starlink is that it provides global coverage and is accessible in rural as well as urban areas – because of the nature of satellites and their continued movement across the sky. If you want to close the digital divide and provide truly universal broadband coverage, you must compliment wired broadband with wireless and satellite to provide coverage to everyone in the world. This is the future of broadband.
Next Generation Wi-Fi
Earlier this year, Broadcom released the first family of next-generation Wi-Fi 7 chipsets, which are expected to be on the market next year. Wi-Fi 7 is amazing, exciting technology—it's the most powerful Wi-Fi standard yet, unlocking new wireless experiences that will change the way people live, work, and play. Here are just some of the benefits:
Wi-Fi 7 doubles the bandwidth of the current state-of-the-art in Wi-Fi, Wi-Fi 6 and 6E, and will be able to access the expanded unlicensed Wi-Fi spectrum in the 6 GHz band that the FCC released in 2020.
Users can expect greater speed, reduced latency, and extended range, all with much higher reliability.
Wi-Fi 7's capabilities are the foundation for emerging applications like 8K/16K video streaming, real-time collaboration, wireless gaming, and immersive augmented and virtual reality (AR/VR).
With that said, getting the full benefits of Wi-Fi 7 and further reducing the digital divide on a global scale will require us to engage collaboratively with governments to make unlicensed 6 GHz spectrum available globally.
Why Broadcom Software
About five years ago, Broadcom made the decision to go into the software business. With the acquisitions of CA Technologies in 2018 and the Symantec Enterprise Security business in 2019, we sought to expand and diversify our infrastructure technology portfolio to include mainframe and endpoint/payment security software. In bringing our R&D-centric, customer-focused approach to our infrastructure software portfolio, we have been able to provide greater value to our customers through improved product development and support.
Proposed Acquisition of VMware
As we looked to expand our investment in innovation and technology for our customers, Broadcom announced our intent to acquire VMware. VMware has created software technology for large-scale enterprises to build their own cloud environments on-premises. VMware has also been able to create a platform that can manage modern workloads on clusters of Kubernetes. Through that, and the VMware Cloud (VMC) platform, they've enabled apps and workloads running on private clouds to migrate seamlessly and securely to any private or public cloud and back again.
Once the acquisition closes, Broadcom will support VMware by making it part of our broader, diversified infrastructure software portfolio. Together, we will accelerate VMware's growth and momentum in the multi-cloud ecosystem, which in turn will help move our customers' businesses forward. By investing and innovating in infrastructure software and VMware products, we will bring our customers greater flexibility and choice in how they manage their data, and deliver the multi-cloud dream they subscribed to.
While I knew participating in the Silicon Slopes Summit would be a perfect fit because of the commitment to innovation that Broadcom shares with Utah's public and private sector leaders, I became even more convinced of this during my conversation with Clint. At the summit, he and I started to discuss our favorite music genre – classic hard rock – and how I celebrated my recent birthday at an Iron Maiden concert. Like Broadcom, some things just get better with time!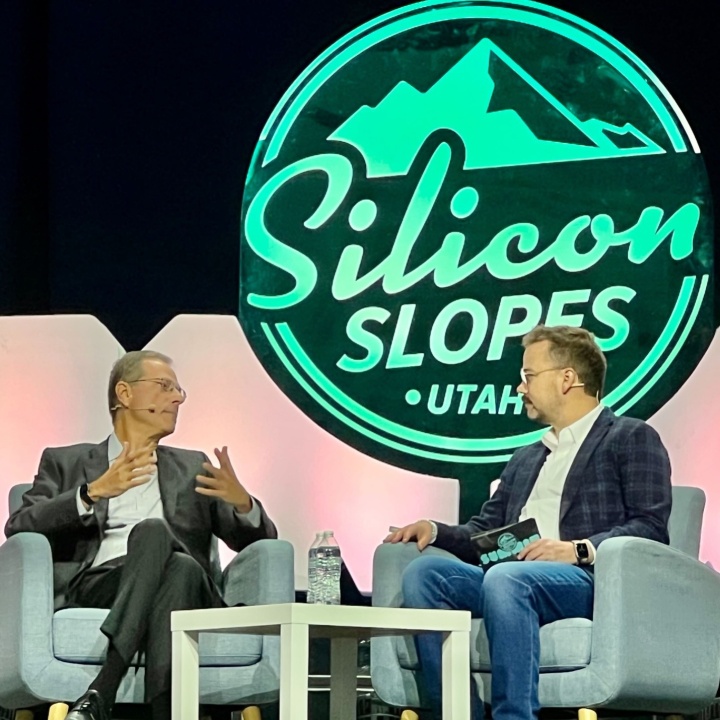 Broadcom Software Blogs
Broadcom Software Blogs
Want to comment on this post?
We encourage you to share your thoughts on your favorite social platform.